With all the viruses these days, a virus that turns people into flesh eating freaks is bound to happen.
This guide will help y'all out but read it very carefully though.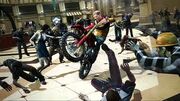 Basic Rules
Edit
Be coordinated and have cardio. The longer you can run, the better.
Double Tap- You can never be sure
Safe House - You'll need a place to survive
Eat canned foods - They'll last longer and expire after a few years
Use Melee Weapons - Guns cause too much noise, the reload is a factor, and ammo can be scarce. Melee Weapons like a katana deal a great amount of damage.
Advanced Rules
Edit
After surviving for a while, you will learn to adapt.
Walk like the undead - Fool them
Improvise - Occasionally, you'll get into tight situations. Find the code that works and GTFO outta there!
Get Creative - Make weapons. Combine a chainsaw and a paddle or whatever. Do what must be done. Make sure your creation isn't too heavy or breaks easily.
Anything and Everything - Is a weapon, use it to your advantage.
Run Like Hell --> In really tight situations, just run!
Ad blocker interference detected!
Wikia is a free-to-use site that makes money from advertising. We have a modified experience for viewers using ad blockers

Wikia is not accessible if you've made further modifications. Remove the custom ad blocker rule(s) and the page will load as expected.